Cooperation with Ghana paramount chief
Regarding the promotion of VIPSTARCOIN in the Republic of Ghana, we would like to announce that the efforts of Mr. Maximoore and BM max enterprise have made it possible to obtain the cooperation of Nana Obrempon Kwaku Duah III, one of the paramaount chiefs of Ashanti Kingdom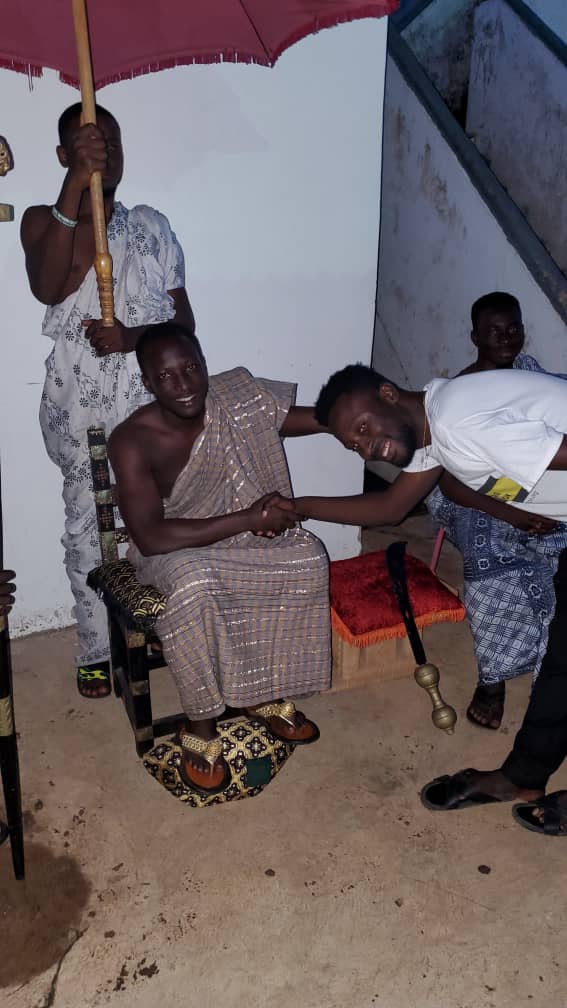 About Ashanti Kingdom
The Republic of Ghana is described as being made up of 16 states, but in fact many of the states are independent "kingdoms" and are monarchy by "kings". Ashanti kingdom, of which capital is Kumasi, 2nd largest city in Ghana, is originated from old Ashanti kingdom, which was founded in 1670, and is considered to be the most prestigious of the 10 kingdoms.
Click here for more details
Nana Obrempon Kwaku Duah III is one of the highest among the ten chiefs in Ashanti Kingdom, and owns about 1/4 of area of Ashanti with 600,000 to 800,000 people. From now on, He will instruct community to spread VIPSTARCOIN in the area and cooperate with other chiefs to spread throughout the Ashanti Kingdom.
As we received a message video from on this collaboration, we will share it. following the tradition, he speaks the local language and the attendant translates it into English.By quoting Jesus Christ, he blesses to build a cooperative relationship with VIPSTARCOIN.
Original English Speech
Nana has accepted the VISPSTARCOIN in the sense that MSM Moore Foundation is helping this communities. Sick and the Needy and for that Matter Nana is pleading with each everyone here to accept VISPSTARCOIN so that each everyone in this communities will benefit and it will be known in Ghana as a whole. Nana is trying to say that we shouldn't keep it as secret but rather we should go ahead and disclose what we have heard today about this VIPSTARCOIN to our friends and families in other region and abroad. It is hope, it is hope to us so that the people around us who also get to know this coin and live in and spread the news to entire region and Ghana as a whole. So that those who are establishing new business and so grow well. Nana went ahead then explained that the Samarian woman who had good news from Jesus Christ didn't keep it secret but she went ahead and disclosed the news to each everyone. Now the news of Jesus Christ has spread to whole world. This is This means Maximoore seeing good in VIPSTARCOIN He didn't keep it to himself but wanted the whole community and Ghana as a whole to benefit from it".
Maxi's translation local language to English
Nana has accepted the VISPSTARCOIN in the sense that MSM Moore Foundation is helping communities in Ghana who are sick, helpless and needy. Nana is pleading everyone here to also accept VISPSTARCOIN in their homes and shops so as to enable the VIPSTARCOIN to join hands with MSM Moore Foundation to continue helping and supporting communities. We shouldn't keep this to ourselves but rather we should go ahead and disclose it to our families abroad, or anywhere in the world. Those establishing new business should implement this payment platform to enable their employers benefit as well as their consumers. Nana went on and made a quote saying "there was a Samarian woman who first saw Jesus Christ. She didn't keep it to herself but she went to the city and announced the coming of Jesus. This means Maximoore seeing good in VIPSTARCOIN but he didn't keep it to himself but he wants the whole community and Ghana as a whole to benefit from it".
If Maximoore has accepted and has spread the news to us then we should congratulate and embrace this coin in our daily lives
In the VIPSTARCOIN community, fans are actively engaged in communication and development daily. A fun community for anyone who wants to touch everyday life, serious stories, and development and blockchain. Please take a look at this Discord !
VIP STARCOIN discord community is here!
https://discord.gg/6A5teWA